Taiyo Yuden/CMC DVD 16x Gold Archival White IJ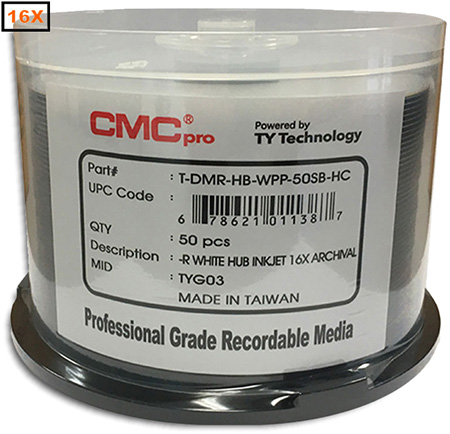 Actual product may differ slightly from the image above.
TY4716GA Taiyo Yuden/CMC DVD 16x Gold Archival White IJ
DETAILS AND SPECIFICATIONS
CMC Pro (Taiyo Yuden Technology) 4.7GB 16X White Inkjet Hub Printable Gold Archival DVD-R's with Hard Coat Record Surface (scratch protection)
Features:
•Dual reflective layers
•Gold/Silver alloy layer allows for better reflectivity and greater stability than many other Gold Archival media options
•Unique silver alloy layer delivers high reflectivity and broad read/write compatibility
•Hard coating protects recording surface against scratches and rough handling
•CMC Pro's internal longevity test estimates the longevity of the media to exceed 100 years under controlled conditions16X Record Speed capable.

No stacking ring or groove allows full-face, hub printing! The printable surface is perfectly suited for high-resolution color inkjet printing. Recording surface is purple.
Copyright© 1996-2021 American-Digital, LLC d/b/a American-Digital.Com and Am-Dig.Com
All Rights Reserved. Designated trademarks and brands are the property of their respective owners.