MAM-A 14402 GOLD CD-R DA-74 White Inkjet Printable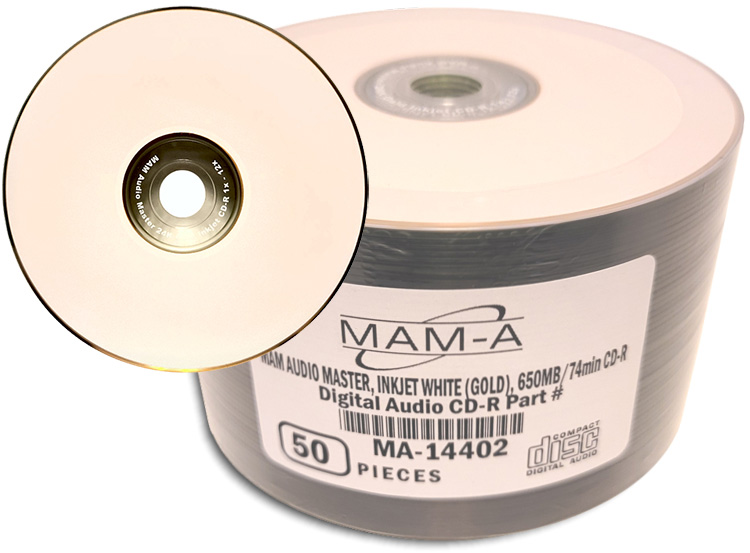 Actual product may differ slightly from the image above.
MA14402 MAM-A 14402 GOLD CD-R DA-74 White Inkjet Printable
DETAILS AND SPECIFICATIONS
MAM-A 14402 GOLD DA-74 CD-R White Inkjet Printable
The MAM-A 24 Kt. Gold Archive-Grade CD-R is our highest performance recordable disc, providing longevity and durability far in excess of conventional silver CD-Rs. Long-term applications such as data and e-mail archiving, photo and audio applications can benefit from the Gold CD-Rís strict quality control, 24 karat gold reflective layer and patented Phthalocyanine dye formula which offers storage life well in excess of 300 years. MAM-A Gold Digital Audio CD-R discs are made to record at 1x - 12x low speeds, ideal for audio recordings. These discs have a Recording layer is resistant to UV and heat better than other discs on the market.
MAM-A Inc. has engineered its printable surface media to maximize printability for all the industryís leading CD-R and DVD-R printers. These surfaces dramatically improve performance in all inkjet printers, while decreasing the amount of printer resources required to achieve professional results. Compatible with most inkjet printers, including Primera, Epson, and HP
Copyright© 1996-2021 American-Digital, LLC d/b/a American-Digital.Com and Am-Dig.Com
All Rights Reserved. Designated trademarks and brands are the property of their respective owners.