EMTEC EKMMD4GC400: Red Flash Drive 4GB C400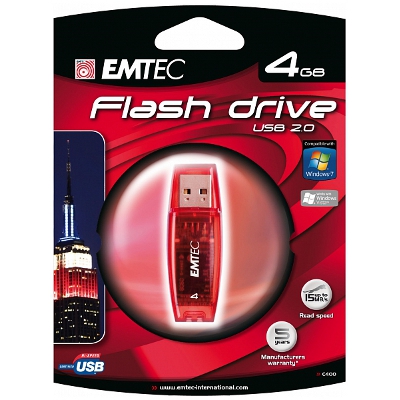 Actual product may differ slightly from the image above.

The approximate date of availability is 2/28/2019.
DETAILS AND SPECIFICATIONS
EMTEC EKMMD4GC400 Flash Drive 4GB C400 Red

Style
The C400 USB Flash Drive features a classic, entry-level form factor, bright bold color and a translucent casing. The cap can be stored on the back of the drive while it's in use.

Plug and Play
Simply plug the flash drive into your computer's USB port and the computer will automatically detect the device.

Compatibility
Compatible with most Windows and Mac Operating Systems. Plug-and-play in Windows 2000, XP, Vista and 7. Compatible with all USB 1.1 and USB 2.0 devices.

Performance
The C400 Flash Drive features read speeds of up to 15 MB/s and write speeds of up to 8 MB/s.

Eco-Friendly Features
EMTEC's eco-friendly packaging uses 60% less plastic than standard clam-shell blister packaging and the laminated, tear-resistant paperboard is biodegradable and 100% recyclable.