Philips DM4I6B00M/17 DVDR 16x White Inkjet Cakebox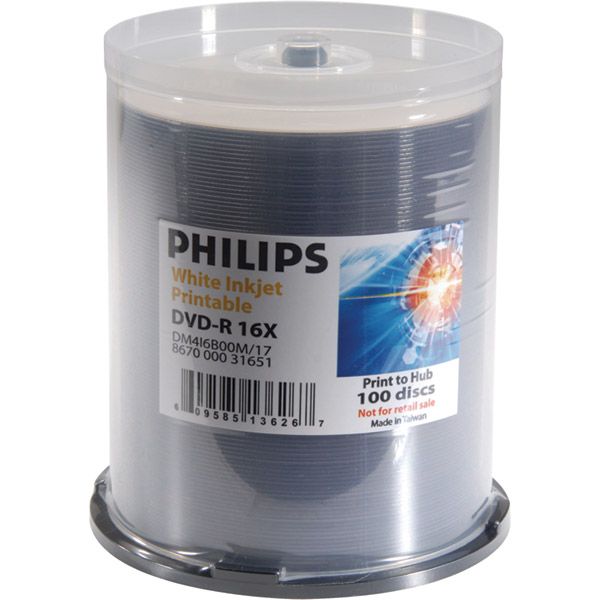 Actual product may differ slightly from the image above.
PHDM416B Philips DM4I6B00M/17 DVDR 16x White Inkjet Cakebox
DETAILS AND SPECIFICATIONS
Philips DM4I6B00M/17 DVD-R 16x White Inkjet Cakebox
This 100-pack spindle of recordable DVDs from Philips is compatible with most DVD players and computer-based DVD drives. Each disc holds up to 4.7GB of music video or other data and records at speeds up to 16x. With DVD-R Media just one disc type is suitable for both Video and Data recordings. Philips DVD-R Video and data recording Media plays on existing and future DVD Video and DVD-Rom players and is suitable for video recordings in the latest mpeg2 format (two hours on a disc). The 4.7GB capacity holds as much data as seven standard CDRs.
• Format: DVD-R
• Capacity: 4.7GB
• Record Time: 120 Minutes
• Write Speed: 16X
• Packaging: 100pk Cake Box Spindle
Features 16x DVD-R media for recording data home videos photos music and more 4.7 GB of memory records up to 2 hours of video Write-once compatible with high-speed Philips and other DVD writers Burns a single full DVD disc in fewer than 10 minutes Read-compatible with majority of DVD-ROM drives and DVD players.
Copyright© 1996-2021 American-Digital, LLC d/b/a American-Digital.Com and Am-Dig.Com
All Rights Reserved. Designated trademarks and brands are the property of their respective owners.