CD Jewel Case Shell for Four Discs (No Trays)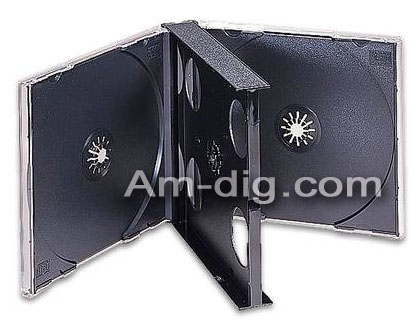 Actual product may differ slightly from the image above.
JC4SB CD Jewel Case Shell for Four Discs (No Trays)
DETAILS AND SPECIFICATIONS
CD Jewel Case Shell Without Trays for Four Discs
PRODUCT SUMMARY
TYPE
CD Jewel Case
COLOR
Black
STYLE
Multi Standard
CAPACITY
Four Discs - when fitted with 2 compatible trays (not included).
DIMENSIONS
142 x 125 (in mm)
FEATURES
This is the outer portion (case shell) of an unassembled multi CD jewel case.
Trays are NOT included.
Unassembled cases are ideal for large projects involving trayliners as it eliminates the step of popping out the tray as with assembled cases.
If you have extra trays this will put them to good use.
CLICK HERE for a guide to the above specifications.
---
Need a sample of this item? Go to our CD Case Sample Page. Be sure read the details about our sample program on that page before adding it to your cart.
Copyright© 1996-2022 American-Digital, LLC d/b/a American-Digital.Com and Am-Dig.Com
All Rights Reserved. Designated trademarks and brands are the property of their respective owners.