Exabyte 558: 60/150GB 225M Mammoth 2 8mm Cartridge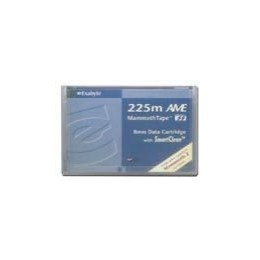 Actual product may differ slightly from the image above.
DETAILS AND SPECIFICATIONS
Exabyte 558: 60/150GB 225M Mammoth 2 8mm Cartridge
This 8mm digital cartridge from Exabyte works on your Mammoth 2 and holds up to 150GB of compressed data. IS professionals' jobs rely on data security and media is a key component. A tape storage system no matter how advanced can perform only as well as the media used with it. Formulated and certified specifically for data storage applications Exabyte media optimizes drive performance increases data integrity and reduces mechanical wear. Exabyte media is the only media used throughout the design manufacture and test processes of Exabyte tape drives and libraries. Exabyte's AME with SmartClean Technology includes a section of cleaning tape at the beginning of each data cartridge which is specifically designed to remove chemical films that build up on drive heads. The drive which keeps statistics on its own operation determines when cleaning is necessary. Smart Clean provides the highest level of data integrity and data availability in the industry.