Verbatim 95203 DVD-R 4.7GB 16x Silver Silk Screen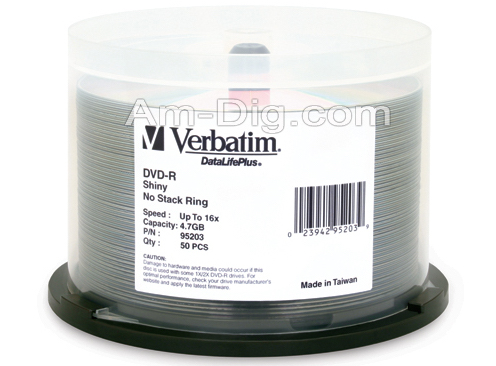 Actual product may differ slightly from the image above.
VB95203 Verbatim 95203 DVD-R 4.7GB 16x Silver Silk Screen
DETAILS AND SPECIFICATIONS
Verbatim 95203: DVD-R 4.7GB 16X DataLifePlus Shiny Silver Silk Screen Printable - 50pk Spindle
Ideal for silk-screen printing, create high-quality, customized labels for your DVD media with Verbatim Shiny Silver DVD-Recordable discs. Offering 4.7GB or 120 minutes of DVD-quality storage capacity, these are one-time record discs, ensuring that your movies, video clips or other data will not be erased. Shiny Silver DVD media is available in DVD+R and DVD-R formats. Today, most DVD writers and readers use these discs interchangeably, with no noticeable performance differences. With older units, check your manufacturer's suggested DVD format to ensure compatibility.
Compatible with up to 16X DVD-R Hardware
Advanced Azo recording dye optimizes read/write performance
Ideal for recording up to 2 hours of DVD quality home movies and video clips
Archive and back up, up to 4.7GB of important data
Compatible with 8X DVD-R drives from Pioneer, Apple, Sony, Panasonic and others
Read compatible with most DVD-ROM drives and DVD video players
Available in spindles of 50 and master cartons of 200
The UPC code for the 50 spindle is 23942-95203
Copyright© 1996-2021 American-Digital, LLC d/b/a American-Digital.Com and Am-Dig.Com
All Rights Reserved. Designated trademarks and brands are the property of their respective owners.