Verbatim 94852: Shiny Silver 8x DVD-R (minus)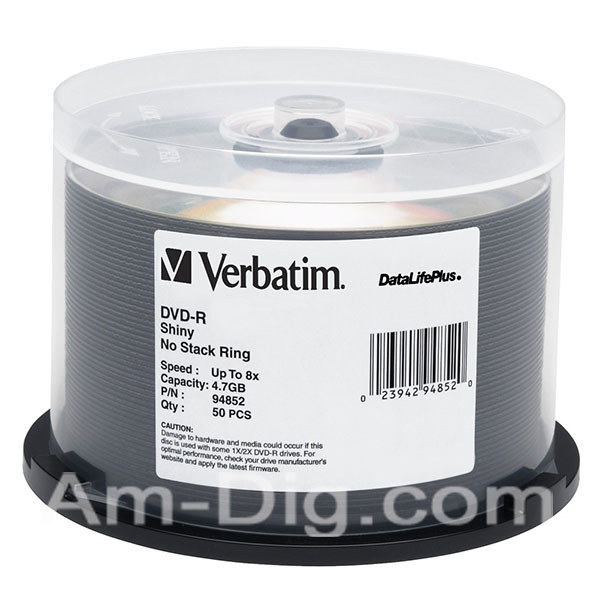 Actual product may differ slightly from the image above.
VB94852 Verbatim 94852: Shiny Silver 8x DVD-R (minus)
DETAILS AND SPECIFICATIONS
Verbatim 94852: Shiny Silver 8x DVD-R (minus)
---
Verbatim 8X Shiny Silver DVD-R media can be used with high speed DVD writers from Sony, Pioneer and others. Verbatim 8X DVD-R discs offer 4.7GB of write-once storage capacity, superior recording quality, and compatibility with 1X to 8X DVD-R writers*. Users can write a complete 8X 4.7GB disc in less than 15 minutes. Verbatim DVD-R discs are based on an advanced "Metal Azo" recording dye, which provides the highest level of performance, reliability, and archival life. In addition, Verbatim DVD-R media provide broad read compatibility with the vast majority of DVD-ROM drives and DVD-Video players in use today.
1X-8X DVD recording speed (minus format)
Ideal for silk screen printing
Advanced Azo recording dye optimizes read/write performance
Superior Archival Life
Available in spindles of 50 and master cartons of 200
The UPC code for the 50 spindle is 23942-94852
---
The 94852 may ship directly from Verbatim.
Copyright© 1996-2021 American-Digital, LLC d/b/a American-Digital.Com and Am-Dig.Com
All Rights Reserved. Designated trademarks and brands are the property of their respective owners.