Verbatim 98021 Folio Slim Keyboard Case iPad 2/3/4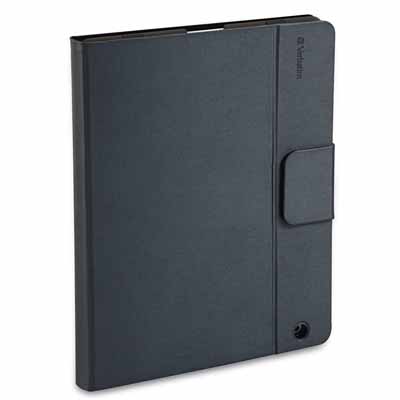 Actual product may differ slightly from the image above.
DETAILS AND SPECIFICATIONS
Verbatim Folio Slim Case with Keyboard for iPad 2/3/4, 98021, Black
Ultra-thin durable folio and keyboard solution protects and carries your iPad while allowing you to convert it to a laptop style orientation.
The case folds into a full keyboard and stand for your iPad, and the frame rotates to landscape and portrait positions for typing and viewing.
The wireless Bluetooth keyboard features a rechargeable power supply, easy use smart keys*, and soft-touch keys provide crisp, responsive feel when typing which can also be separated from the folio case for flexibility when typing
Folio Design - Deluxe case opens into a full keyboard and stand for iPad and iPad 2
Adjustable Orientation - Rotate the iPad to type in both landscape and portrait modes
Protective case only 3/4 inch thin (with iPad) provides the ultimate portable solution
Removable Keyboard - Rechargeable Bluetooth keyboard can be moved and located as desired for easy typing