Verbatim 95188: CompactFlash Memory Card, 4GB, TAA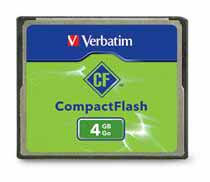 Actual product may differ slightly from the image above.
DETAILS AND SPECIFICATIONS
Verbatim CompactFlash Memory Card, 95188, 4GB, TAA
Verbatim CompactFlash Memory Cards are the perfect storage solution for digital devices that need high capacity flash memory.  Each card features an integrated controller, which performs the flash management and interface functions, and is optimized for highest performance. Verbatim CompactFlash Memory Cards can be used in any device containing a CompactFlash slot and are 100% compatibility guaranteed.
Fully erasable
High Performance Controller for demanding applications
Rugged - withstands up to 2000 G's operating shock
Low Power Consumption - extends battery life
Verbatim Lifetime Warranty