Verbatim 98671: 16GB Black Dog Tag USB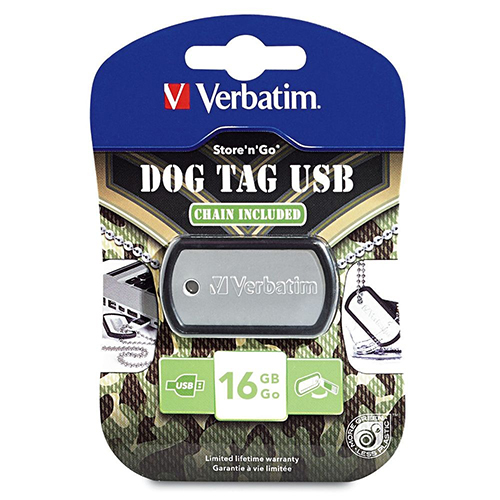 Actual product may differ slightly from the image above.
DETAILS AND SPECIFICATIONS
Verbatim Dog Tag USB Flash Drive, 98671, 16GB, Black, TAA
Looking for a fun, unique way to store data that's tough enough to stand up to your active lifestyle? The Verbatim Dog Tag USB Drive is the solution. We designed this rugged 16GB USB drive in the shape of an actual dog tag, complete with a metallic bead chain, and protective rubber border. When not in use, the durable, water resistant USB drive stores conveniently in the back of the tag, so it's ready to go when you are.
USB 2.0 Interface
Authentic dog tag look and feel, bead chain included
Durable SIP (System in Package) design – encapsulates and protects electronic components from water, dust and debris
Drive stores conveniently in back of tag when not in use
Limited Lifetime Warranty