Maxell TK88: DLT-IV Tape, 20/40/70/80GB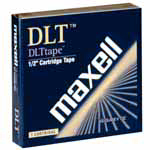 Actual product may differ slightly from the image above.
DETAILS AND SPECIFICATIONS
Maxell TK88 Tape, DLT IV, TK88, 20/40/70/80GB, DLT4000/8000
DLT IV Data Cartridge - Reliable, high-capacity storage, long archival life and high transfer speed. A new dimension in high capacity storage. The answer to the high capacity storage and archiving needs of mid-range systems, network servers and high-end Workstations. Compressed capacity of up to 80GB on a single tape combined with sustained transfer speeds of 6MB/second provide the performance essential to data-intensive applications. DLT technology delivers the durability and reliability you need to protect your data investment.