Imation 16369: AIT3 Data Cartridge AME, 100/260GB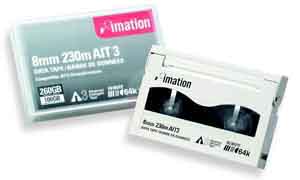 Actual product may differ slightly from the image above.
DETAILS AND SPECIFICATIONS
Imation 16369 Tape, AIT3, AME, 100/260GB, 230m
Imation AIT 3 (Advanced Intelligent Tape) Data Cartridges are a storage tape technology for businesses with high-performance, high-capacity data storage needs. AIT 3 technology provides higher efficiency at lower costs. An internal 64K bit memory in cassette is built into the data cartridge, allowing you to access your data faster than ever.