IBM 08L9120: Ultrium LTO-1 Cartridge 100GB/200GB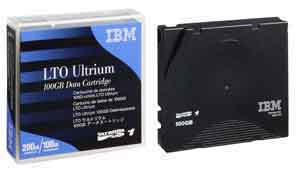 Actual product may differ slightly from the image above.
DETAILS AND SPECIFICATIONS
IBM 08L9120 Tape, LTO, Ultrium1, 100GB/200GB
 The IBM LTO Ultrium 1 (#08L9120) includes a Linear Tape-Open Cartridge Memory (LTO - CM) chip that contains cartridge specific information to communicate with Ultrium tape drives during loading/unloading via a radio frequency component. The First Generation of the IBM LTO Ultrium 1 (#08L9120) offers a 100GB native capacity and a 200GB compressed capacity.