Calrad 95-1071: Xlobby RF Remote Control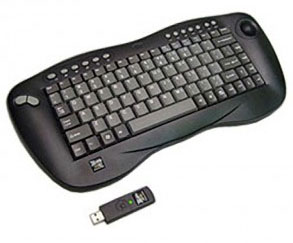 Actual product may differ slightly from the image above.
DETAILS AND SPECIFICATIONS
Calrad 95-1071: Xlobby RF Remote Control
This Calrad 95-1072RF Wireless RF Keyboard and Mouse is the perfect compliment to an xLobby Pro Home Control and Multimedia System or the xLobby Cube Multimedia System. It allows full control of your systems using the keyboard and integrated trackball-style mouse. The best part is that there are no wires! You can control your multimedia system from the comfort of you couch or as you move about the room. With a range of up to 55 feet, you can control your system from almost anywhere in your home. There is no advanced installation required, simply plug in the USB dongle to your multimedia system, install the included AA batteries in you wireless keyboard and you're ready to go. As an added bonus, there is auto shut-off mode - the keyboard goes into sleep mode after 8 minutes of no use. Simply hit a key and keyboard will wake in 2 - 3 seconds.