Calrad 10-162: Dual XLR Cable to USB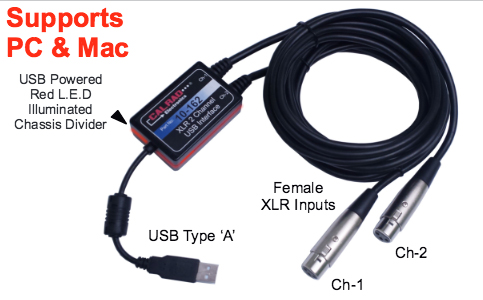 Actual product may differ slightly from the image above.
DETAILS AND SPECIFICATIONS
Calrad 10-162: Dual XLR Cable to USB
The Calrad 10-162 is a portable audio adapter that provides a simple method to record external balanced pro-audio signals at a 16 bit 48/44.1 KHz digital quality format. Works with PC and Mac computers, interfaces with condenser or dynamic microphones.
Supports Cool Edit Pro, MAXGX Samplitude Pro, Sound Forge Pro and other recording software.
Compatible with USB 2.0 & USB 1.1,fit USB audio device v1.0 specification Embedded A/D converter with audio signal boost technology.
2 Channel Analog microphone inputs to a single Mono channel digital microphone channel.