Verbatim 95099 DVD-R Discs 4.7GB 16x W/Slim Jewel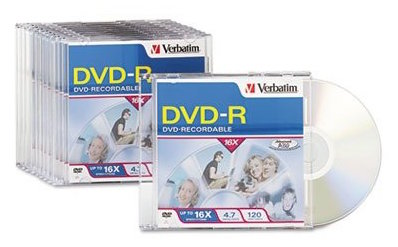 Actual product may differ slightly from the image above.
DETAILS AND SPECIFICATIONS
Verbatim 95099: AZO DVD-R 4.7GB 16X with Branded Surface-10pk Slim Case
Enormous double-layer storage capacity accommodates longer programming such as sporting events weddings and more. Ideal for archiving home movies and other precious memories. Use for backing up important business documents or any other capacity-intensive application. Reliable disc lets you store more per disc for more efficient storage. Compatible with most DVD-ROM drives and DVD players for hassle-free writing and reading. Permanent write-once format means data can't be overwritten or erased. Disk Type: DVD-R; Capacity (HD Video): N/A; Capacity (Video): 120.0 min; Capacity (Music): N/A.

Compatible with up to 16X DVD-R Hardware
AZO recording dye optimizes read/write performance
Ideal for recording up to 2 hours of DVD quality home movies and video clips
Archive and back up, up to 4.7GB of important data
Read compatible with most DVD-ROM drives and DVD video players