Calrad 25-345: 60 Watt Stereo Desk top Loud Speake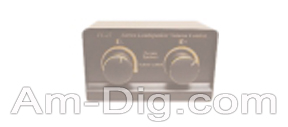 Actual product may differ slightly from the image above.
DETAILS AND SPECIFICATIONS
Calrad 25-345 60 WATT STEREO DESKTOP LOUDSPEAKER CONTROL CENTER
Individual volume controls for each speaker L&R. Input/Output through 4mm gold plated terminals. Can be used with Calrad 30-605 banana plugs. Accepts 12-18 guage cable. Sturdy metal chasis with black finish.
---
The 25-345 may ship directly from Calrad.